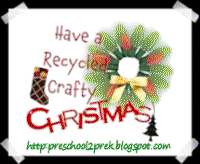 Welcome to our second week of our month long blog meme. Each week families will be showing and sharing ideas for making decorations and ornaments out of household items that have been recycled into festive items for the Holiday season! Show us what your kids made or what you have made with your kids!

You can also participate by sharing Holiday memories of keepsakes that have been passed down to you and your family. We consider those keepsakes recycled too!

If you are not familiar with our guidelines you can read them
HERE
. Feel free to grab our button on the top right sidebar where you will find the button code. You do not have to post a tutorial just have fun sharing your ideas and photos!

Now let's get started! This week, my children and I will be sharing with you some of our ideas on making indoor decorations..


Milk Carton Nativity or Christmas Village


This past week my sons and I made our own homemade Nativity. We used one the the First Thanksgiving homes we made for our unit study. I'll will share to to make your own out of a milk carton. You can use these same instructions to make a Christmas Village if you have more than one milk carton too!

You'll need:
an empty milk carton
scraps brown paper packing or paper grocery bag
scissors
tacky glue or Elmer's glue
brown acrylic paint
paint brush
scraps of blue fabric
an empty box
Plastic farm animals

For making a Christmas village:
several colors of acrylic paint for the house
Shaving cream and Elmer's glue for Puffy Paint (recipe below)
Paint brush
White fabric or old t-shirt
silver glitter (optional)

For making Mary, Joseph and baby Jesus or making Christmas village carolers you'll need:
Old fashioned clothes pins
a handsaw or wire cutter (parents use only)
Sharpie marker
acrylic paint
scraps of felt
a hot glue gun
scissors
Play dough (optional)


Directions for making a Nativity or Christmas Village:
1. We cut the milk cartons into three sections. The boys used the tops and bottoms of the milk cartons to make the stable or homes. Your can use the middle section as fencing for farm animals.

2. The milk carton tops were used for making homes. You can tape the tops down a bit if you'd like. We used the bottom of the milk cartons to make buildings and to make the stable.

3. Use glue to adhere brown paper to the milk cartons (I had some paper left over from our Fall Seasonal tree that we did not use). It made it easier for the boys to glue their pieces of construction paper to the milk cartons.


4. For the the sides of the home and stable, my older soon painted the over the brown paper with acrylic paint and then scratched the surface with a fork. When the paint dried my son added the construction paper to the roof of his home or stable.

If you are making a Christmas village you can paint windows and a door or with younger children glue construction paper cutouts as windows and door. Let dry. For the stable, cut out a section of your wall. This will be the front part where the animals will be after you are completely done.
5. For the Christmas Village. you'll need the make some snow to place on your houses. Here is a quick and easy recipe for Puffy paint. Mix one part Elmer's glue and two parts Shaving cream in a container. We used about a palm size of shaving cream to a container of a silver dollar size of glue. Mix them well. Use a paint brush and apply the Puffy paint snow to the roof of your houses. This will make them look like new fallen snow has landed on them. For a frosty glow, you can add silver glitter. Don't worry if the mixture looks runny, you will see a difference when it dries and puffs up. My sons painted ours above.


My sons had fun seeing their paint puff up after a hour or so, it began to look like snow. Let it dry for several hours before setting your Christmas village up. While it is drying move on to step 7.

6. For your Nativity Stable, cut some blue fabric. I used a star fabric. We measured it to an empty box and then hot glued it to the inside.

7. Make the people using clothespins for Mary, Joseph and Baby Jesus or to make Christmas carolers. Mommy used a wire cutter to cut a clothes pin small enough to be the Baby Jesus. My oldest son used a sharpie marker draw faces on the tops of your clothes pins. Use acrylic paint to paint hair and under clothing. Get some scraps of felt to make clothing. The boys made shepherd's clothing for Joseph and clothing for Mary.
8. To make your clothes pin people stand you can use small pieces of playdough or hot glue them in place. We used some of the boy's left over playdough when we made playdough turkeys during
Thanksgiving. Then let your children add the farm animals. The boys played with it after they set it up. They re-acted the birth of Jesus.
9. When your Christmas Village houses are dry, you can laid them on a table or bookcases that is covered with white fabric, felt or an old t-shirt.
Mop Head Santa
Materials:
Mop head replacement or 2 packages of white yarn
sturdy cardboard
scraps of off-white or pink felt
google eyes
red pom pom
an old Santa hat
Tacky glue (optional)
Hot glue gun
mini jingle bells (Optional)

Directions:
1. Cut our your cardboard in a circle or oval shape. Then glue felt on to it.

2. Glue google eyes on the face.

3. Parnets hot glue Mop Head replacement or white yarn for Santa's Beard to the bottom of face. If you are using yarn you'll need two packages of it for a full beard. Measure about 10 - 12 inches of yarn for a long beard. Make sure to leave room for the the cheek area as shown in our photo above. If you have mini jingle bells you can tie some to Santa's beard. We have three on each side.

4. Tacky glue or hot glue on red pom pom for the nose. Then hot glue glue on the Santa hat as shown.

5. Hot glue a hook or piece of ribbon behind Santa's hat so that you can hang your Santa on the wall. Enjoy!



Tips for Indoor Holiday Decor



- Collectibles make for great displays. You have a train, doll or ornament collector in your house take those collectibles and display them for all to see. I used to have a large Barbie Doll collection of 400 dolls that is now down to about 10 dolls. In the past I made Christmas outfits to display them in our bookcase. I have friends who display their kids trains around the base of their tree

.

My sons like to display their trains for Christmas and sometimes their dinosaurs too.

- Other uses for Household items as Holiday Decorations. Plastic Water Bottles can be sued to make snowflakes to hang. Simply cutting your water bottles into different star shapes. The plastic will serve as beautiful reflective ornaments for trees, mantles and doorways. Old glassware can be used as candle holders for festive touch. Recycle old kitchen towels and hot glue festive lace or ribbon to use as napkins or place mats.


I hope you enjoyed stopping by to see what my sons and I created this week for our second week of "Have a Recycled Crafty Christmas."

Feel free to link up this week from December 7th to December 12th to share your ideas and photos! It does not have to be decorations as we did, it can be any Holiday craft that you recycled from household items and it does not have to be exclusively all recycled. Have fun this week!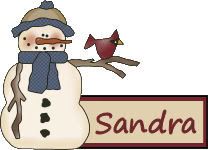 Feel free to link your post below. Please make sure it links directly to your post and not the main page of your blog that way readers can easily find your post.
Thanks!