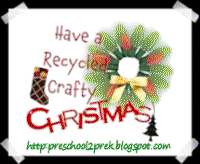 Welcome to our first week of our month long blog meme. Each week families will be showing and sharing ideas for making decorations and ornaments out of household items that have been recycled into festive items for the Holiday season! Show us what your kids made or what you have made with your kids!

You can also participate by sharing Holiday memories of keepsakes that have been passed down to you and your family. We consider those keepsakes recycled too!

If you are not familiar with our guidelines you can read them
HERE
. Feel free to grab our button on the top right sidebar where you will find the button code. You do not have to post a tutorial just have fun sharing your ideas and photos!

Now let's get started! This week, my family and I will be sharing with you some of our ideas on making outdoor decorations.
Trash Bag Wreath
This homemade Christmas wreath is a craft project that recycles. It can be made from plastic shopping bags. New trash bags may also be used but we used ours that we had for storage when we moved. Since it's made from plastic, this Christmas wreath is weatherproof. If you decide to use trash bags, you can choose either white or dark green for a more traditional homemade Christmas wreath.

Pictured above, our Trash bag wreath that we hung on our front door.
For the wreath you'll need the following materials:
White Trash bags about 4-5 (you can use green for a Green wreath)
1 wire coat hanger
Wired Ribbon or red bows


Instructions:
1. Cut trash bags into strips about 6 inches long and 1 1/2 to 2 inches wide. (We cut ours at 8 inches long for a larger wreath). We had thick Kitchen trash bags. It took us about 6 bags, but then we had the size of 13 gallon trash bags.

Tip: The length of your plastic strips determines the fullness of your homemade wreath. Six to eight inches is a good length.

2. We took a white wire hanger and shaped it into a circle. We bent the hook part of the hanger into a loop so that the wreath could be hung after it is completed.

3. Have your children start tying the strips with one knot to the wire hanger but don't tie them too tight because you need to be able to slide them around as you make the wreath. We tied our strips onto the wire hanger while listening to Holiday music and watching Holiday movies. (We took a break now and then because even a nine year old can get bored tying knots) As your wreath begins to get full, you push some of the strips aside to make room for more. Remember, the more strips you have. the fuller your wreath will look.

4. After your wreath is completed, you can add decorations to it. Red bows make a festive touch. For ours, we used silver metallic paper twist to make the bow and then added some silver ball ornaments to it. We hung our wreath on the front door.

Personal Note: It really does not take long to make one. Cutting the strips takes longer but we were able to cut three layers of strips with folding our trash bags so it went faster. You can use grocery bags too.


What is great is the wreath doesn't look like it was made of trash bags!
You can also make mini wreaths out of plastic grocery bags too.

Coat Hanger Snowmen and Reindeer


My mom made Reindeer out of coat hangers when we were young. Back then she would use three coat hangers to make the body of a reindeer and cover it with Garland and lights. Nowadays, stores sell them already made.


We wanted to make a different version that my kids would love and one that could be hung indoors or outdoors. I came up with forming a wire hanger into a snowman shape and one into a diamond shape for a reindeer face.

You'll need:
Knee high pantyhose (nude colored for reindeer and white colored for snowman)
coat wire hangers
google eyes
tacky glue
scraps of Black felt or fabric
scraps of Red felt or fabric
scraps of Orange felt or fabric
one white foam sheet or heavy cardstock (if hanging outdoors use foam sheet)
pop poms (optional)
White Acrylic paint (optional)
Silver glitter (optional)

Directions:
1. Parents: First bend your wire hanger into a snowman shape for a snowman, diamond shape for a reindeer. We used a white wire hanger from the cleaners. (My older brother gets many of them when he gets his work uniforms cleaned so he gives them to me and my mom). The wire hangers from the cleaners are easy to bend with your hands but if you can't bend them by hand, use pliers (only let adults do this first step...safety first).


2. Get one knee high hose and pull out through hanger from bottom to up. For the snowman pull it over as shown in our photo above. For the reindeer, pull it over up to point where the wire begins to twist to form the hook. Tie the ends of hose together.



3. For those like us who only have nude colored hosiery, you can paint the snowman white with acrylic paint and sprinkle silver glitter for a frosty look then let dry as seen in our photo below.


4. Together you and your kids can decorate your snowman and or reindeer. For your snowman cut out of black felt a hat to glue on the top of the snowman shape and then cut a long strip of red felt as a scarf as shown in our photo above. You can use fabric if you want of an old scarf. You can see how we did ours below.

5. Glue google eyes and a nose for a face. For our snowman, we glued two pieces of black felt cut into circles for the snowman's eyes made of coal. We cut some orange scraps of felt for a carrot nose but you can sue an orange pom pom if you want. For the mouth, glue between five to six black felt circles under the nose.
For the reindeer, you can add the eyes one third of the way down and place the nose at the bottom of the diamond shape. We cut out two antlers out of cardstock and glued to the back top of the diamond shape.

6. Hang your Snowman and Reindeer indoors or outdoors as Holiday decorations or give as gifts for family and friends.


Tips for Outdoor Holiday Decor

- Make a snowy scene. You can use white trash bags and lay them against stairwells or your balcony for those who live in apartments. Put some parts up of your trash bags to look like new fallen snow. (Make sure that your trash bags are clear from heavy traffic areas so as not to cause an accident). After the holidays, put up your trash bags to reuse or save for next year as snow.

-
Recycle your old garland. Don't toss out that old garland. reuse it by making into a fun candyland/toyland garland. Use empty pie tins (we use ours from Thanksgiving) and wrap with foil or cellophane like a large candy and glue to areas where your garland has worn. Glue old toys, Happy meal toys or worn ornaments (glue showing good side of ornament) onto your garland. You can add festive red bows (we got ours at the Dollar Tree). Hang outdoors and enjoy!

You can also use old garland to make new wreaths for your home. Wrap the garland onto a wire frame or grapevine wreath. Decorate it with old Christmas ornaments, pine cones, Christmas picks or anything else you desire.

- Recycled old tabletop Christmas trees or door wreaths by flocking them with fake snow. The white texture will make it look almost new. To make the snow glisten, blow some glitter onto the flocking while it is still wet.

I hope you enjoyed stopping by to see what we created this week for our first week of "Have a Recycled Crafty Christmas. Feel free to link up this week from November 30th to December 5th to share your ideas and photos! It does not have to be decorations as we did, it can be any Holifday craft that you recycled from household items and it does not have to be exclusively all recycled. Have fun this week!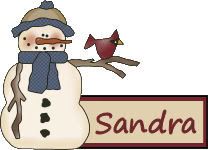 Feel free to link your post below. Please make sure it links directly to your post and not the main page of your blog that way readers can easily find your post.
Thanks!